ARMADILLO METAL ROOFING SYSTEMS TAKES METAL ROOFS TO THE NEXT LEVEL
Armadillo's System is different from all other forms of available metal roofs.
Below are just a few of the DOs and DO NOTs that make Armadillo a superior system.
Offers 7-year warranty on Installation
Installed by Journeyman Sheet Metal Workers
100% water and weather tight
Withstands Hurricane Winds of up to 180 kph
Uses a lower gauge (24) of metal than what has been previously available to homeowners on the Island and in the other Atlantic Provinces, meaning

Armadillo 

provides a thicker and stronger metal.
Removes shingles on every project; to repair any damages from previous roof (rot, dry rot and/or wood damage).
Installs synthetic underlayment (woven) throughout.
Installs Peel & Stick in valleys, skylights, stacks and on eaves.
Installs a standing seamed roof that is a mechanically seamed, which means no exposed screws anywhere, thus eliminating any chance of rain or snow filtering through holes of stripped screws or dried up neoprene washers.
Allows for the building to expand and contract with the four seasons. With ALL components being clipped this allows the product to shift with the structure eliminating oil canning (rippling effect on the metal) which is quite normal with a screw down system.
We never install over shingle; the granulate scratches the back of the metal causing it to rust 3x faster.
We never use strapping as it causes echo, as well as because metal condensates (sweats) and would eventually cause water damage or black mold in your attic.
We do not leave exposed screws anywhere. Our system is water and weather tight.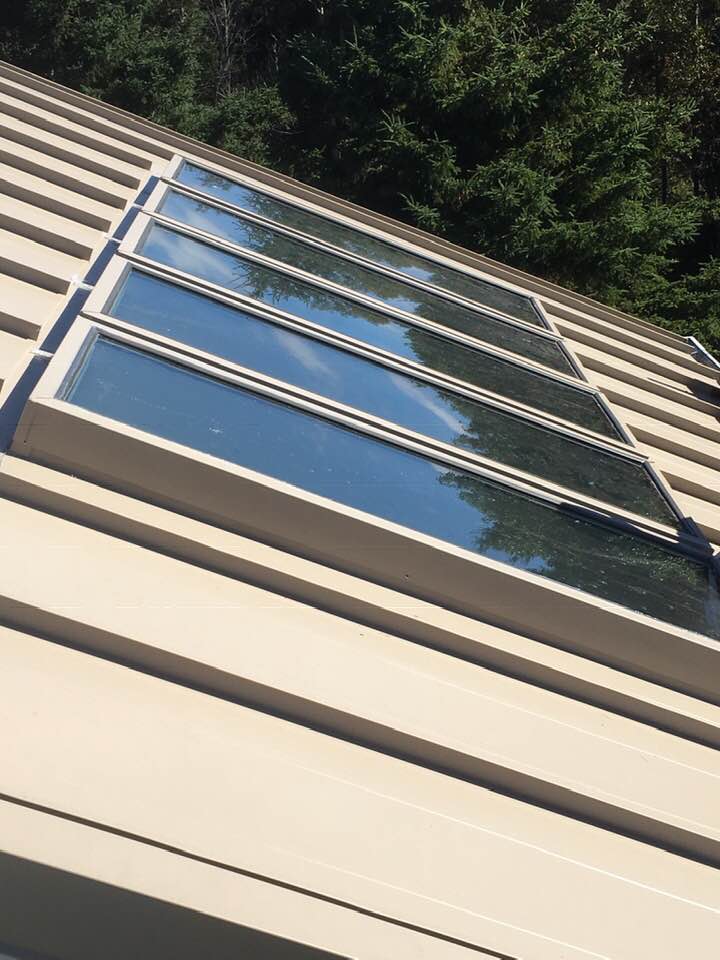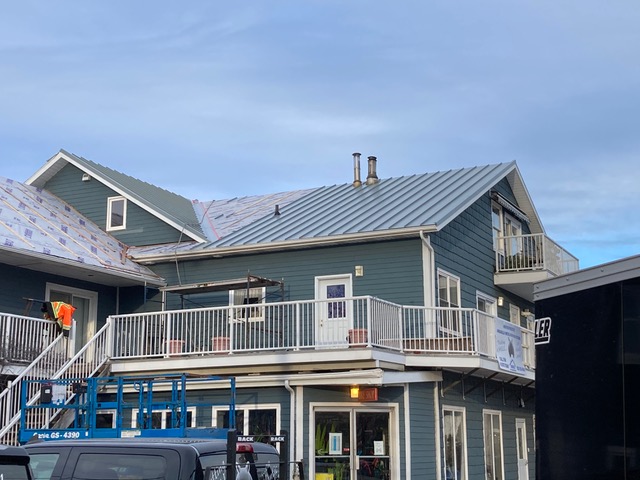 AMRS uses a Series 1300 System consisting of 2″ High Structural/Architectural Panels which are 24 GA. Steel and Aluminum in a variety of finishes.

The three drawings below illustrate the seaming process.
Starting with Step 1, clips are installed over the male leg and fastened to the substrate. The female leg of the adjoining panel is then set on the male leg/clip assembly.
Step 2 involves the panels to be seamed, with either a mechanical or hand seamer. The seam shown is a 90 degree seam or "Single Lock."
Step 3 is a 180 degree seam or "Double Lock" seam. This type of seam is typically required where high wind loads are needed. Data from extensive wind uplift tests is available for different alloys.

For low slope roofs, where water and snow could sit on the roof longer, AMRS uses a double seam for water/weather proofing.
We are the only metal system that can go as low as 1/2 on a 12 degree pitch.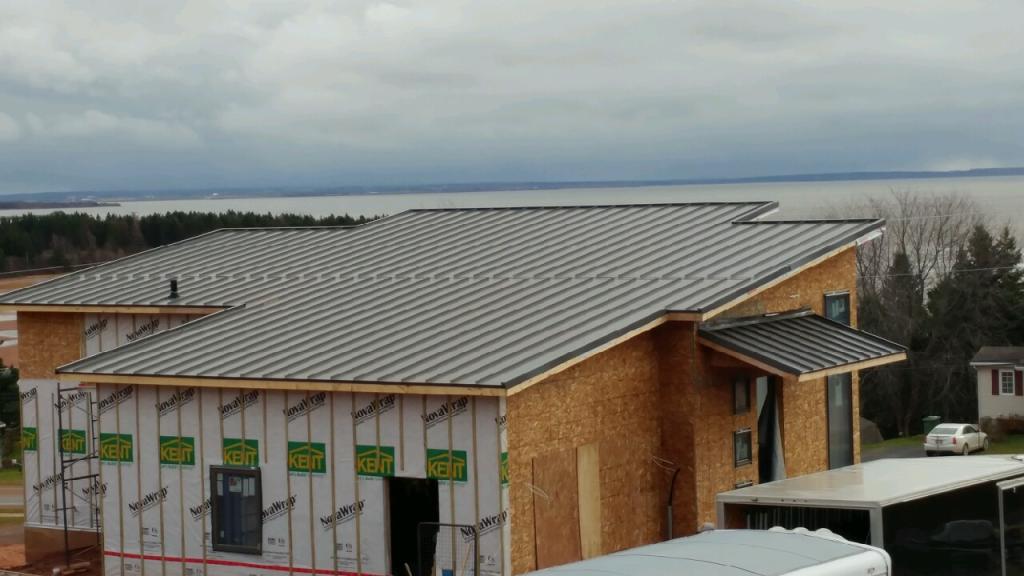 The AMRS system is the only metal roofing system that works on very low slope roofs – 1/2 on 12 pitch and up.
Applying an Armadillo Metal Roofing System is the most attractive option in comparison to the alternatives. Your home or business can be protected worry-free with the appealing, state of the art, metal roofing system Armadillo offers. It will be an easy decision to choose Armadillo as your roofing option, factoring in all the benefits and advantages.
Call Armadillo Metal Roofing Systems at 902-894-3643 (business) or 902-393-0649 (cell) today, or you can request more information or a quote on acquiring the perfect roofing solution for our environment.